---
Finally - we open the first Wine Barrel Restaurant in South Tyrol.
TWO WINE BARRELS
EACH WITH SIX SEATS
TWO DELICIOUS WINE - MENUS
NO DAY OFF
Yours, Family Pircher
Vinumgarten
the name of the restaurant provides not just a cozy place in our garden, but also the special connection from good food and excellent wine. It awaits an authentic Alpine-Mediterranean cuisine, combined with fine wines of small local wineries in the unique setting of two wooden wine barrels.
Reservation
KITCHEN
The cuisine of the owner and chef Klaus Pircher reflects the classic and modern South Tyrol. Selected seasonal products from producers in the area can be found in the kitchen. For aperitif Aperol from Marling of the private distillery Unterthurner, followed by fresh mountain butter from Unterschweighof from the Ulten Valley combined with homemade bread and fresh vegetables from South Tyrol, this are just a few examples.
Menu Download
WINEBARRELS
Built in 1950, each of our two barrels is unique. Until 1999, they were used for the expansion of grappa. Today our barrels have a new determination. Designed by Helmut Pramstaller, austrian master cooper, our wooden barrels invite in every season to a romantic evening for two or pleasurable moments in groups.
Reservation
DINNER IN WINEBARRELS
SLEEPING IN PARADISE
BREAKFAST AT THE VINUMGARDEN
You are welcome to complete your visit to the restaurant Vinumgarten and book an overnight stay in our family-running Hotel Paradise *** S with breakfast.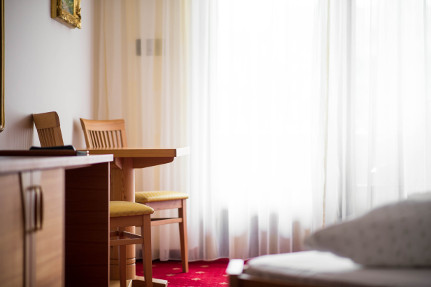 OPENING HOURS: 19.00 til 21.00
RESERVATION NEEDED
TEL: 0473 445202
EMAIL: info@vinumgarten.com
Restaurant Vinumgarten
Max Valierstr. 6
39020 Marling
BZ - Italy